On August 3, superstar Lionel Messi scored 2 goals to help Inter Miami beat Orlando City with a score of 3-1 in the League Cup. The 36-year-old striker also became the first player in Inter Miami history to score more than one goal in two consecutive games.
On the morning of August 3, Messi's Inter Miami club had a match in the round of 16 of the League Cup with rival Orlando City. The heavy rain before the match caused the match to be postponed for 90 minutes. However, this did not stop the fans from coming to the field to watch Messi and his teammates compete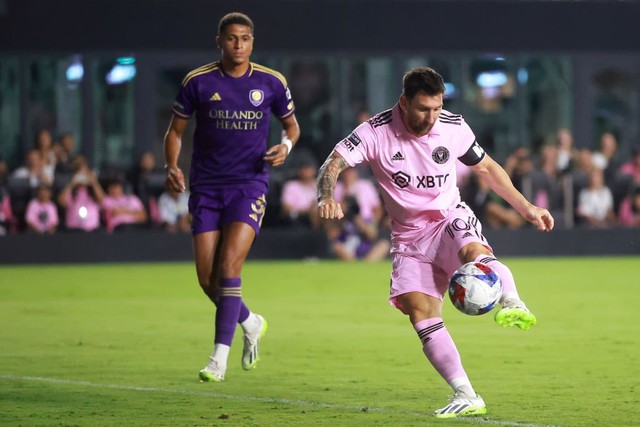 Not disappointing the fans, Messi continued to shine. In the 7th minute, the Argentine superstar opened the scoring after a favorable pass from Robert Taylor
For the first time in 13 years, Messi has scored twice in a row in the first 10 minutes of the game. In the last match against Atlanta United, Messi scored in the 8th minute
However, Orlando City is not an easy team to beat. The club is ranked 5th in the eastern table of the US and quickly equalized in the 17th minute thanks to Cesar Araujo's goal.
In the next period, the two sides competed for tit-for-tat. Messi continues to be the nucleus in the ball phase. In the 36th minute, the Argentine superstar almost scored with a shot on the post
In the second half, David Beckham's team was awarded a penalty after Josef Martinez was fouled in the penalty area. Messi gave the opportunity to take the penalty for Martinez himself. This striker does not miss the opportunity to help Inter Miami get ahead
Orlando City rushed up after the goal but they had to receive another goal after a counter-attack by Inter Miami. The scorer is none other than Messi. A delicate finish with the right foot helped the 36-year-old striker get this double. With this achievement, Messi became the first player in the history of Inter Miami to score more than one goal in two consecutive games
This was Messi's 5th goal in 3 games for Inter Miami. The 2022 World Cup champion attracts attention with a new way of celebrating
No more goals were scored and Inter Miami won 3-1 on aggregate. This result helps Messi and his teammates reach the 1/8 round of the League Cup against Dallas FC early next week. From where a club did not win in 11 matches, the appearance of Messi helped Inter Miami sublimate with 3 consecutive victories